Parks aren't just for the children, with many offering exercise equipment to keep all ages happy, writes Susan Edmunds.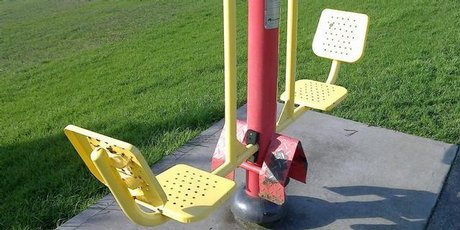 If you want a good cardiovascular and strength-training workout without the cost of a gym membership, the answer could be at the end of your street. There are lots of parks and reserves around Auckland that offer free fitness equipment. Look for a fitness trail to work out some extra muscles while you run or weights to lift to keep you burning calories while your children are on the playground. Get some friends together and make a fitness date to check out a different park each week.
Panmure Basin
With a 3.6km, mostly flat track around the Panmure lagoon, this is a really popular spot for the city's runners and walkers. You can increase the intensity of your workout by stopping at some or all of the fitness trail stations around the circuit. There are 11 in total, including chin-ups, pull-ups, a log jump, parallel bars, step-ups, beam jumps, an overhead ladder and sit-ups. Ten repetitions on each of these as you run around the circuit will give an excellent full-body workout.
Rocket Park
Exercise equipment manufacturer Don Oliver installed workout gear at Rocket Park in Mt Albert a few years ago, so parents could get fit at the same time as their kids made use of the extremely popular playground. Anyone over 11 can use the gear to do everything from cycling and bench presses to tricep dips and sit-ups on the brightly coloured equipment. From time to time, YMCA Mt Albert, which is also based in Rocket Park, offers free classes in the park – Zumba classes in February were really popular.
Craig Avon
With a pretty track through native bush and alongside a stream, the only drawback with doing the fitness trail at Craig Avon in Blockhouse Bay is that you might find yourself dodging canine hurdles as well as those on the exercise stations. The park is a really popular off-leash area, so if you have a dog, it is the perfect place to go to exercise. The circular track is about a kilometre long and includes eight fitness stations along the way. Because the trees offer some shelter, it's an all-weather outdoor exercise option.
Marlborough Park, Glenfield
Marlborough Park is one of the most popular parks on the North Shore for skateboarders but it has also become really popular with elderly residents since adult exercise equipment, worth about $28,000, was installed. On offer is an airwalker, which is a kind of low-impact cardio exercise machine that mirrors the movements of walking, a leg press and a multistation that allows people to strength-train lots of different muscle groups. There's also a standard playground to keep the kids entertained while you work out.
Grey Lynn Park
Although Grey Lynn Park is probably best known for its free paddling pool – supervised in summer months – the park's "fitness zone" is a good option for adults wanting to get some exercise in. It's recently had a $100,000 upgrade. At the Dryden St entrance there are stations for doing tricep dips, a chin-up bar and a sit-up bench. All of them have suggestions on how to do the exercises and use the equipment. Older equipment, including old-style chin-up bars, has now been removed and the council has opted for a station, rather than a circuit, approach for the park. To round off your workout, take a stroll or jog along one of the tracks.
Outdoor workouts
Check out other parks near you with fitness trails or exercise equipment:
Central: Fowlds Park, Michaels Ave (Ellerslie), Walker Park (Pt Chevalier), Western Park (Ponsonby)

North Shore: Normanton Reserve (Glenfield), Unsworth Reserve, Rosedale Park and Rook Reserve (Albany), Greenslade and Cadness Reserves (Northcote) and Shepherds Park (Beach Haven).
South: Meadowland and Somerville Parks (Howick), Logan Carr Reserve (Botany), Howick Domain, David Lange Park (Mangere), Ngati Otara Park (Otara), Jellicoe Park (Manurewa), Rotary Walkway (Pakuranga).
* Have we missed one?
Credits
Written by: Susan Edmunds
Photo/s by:Supplied
Source: NZ Herald – nzherald.co.nz | 5:30 AM Saturday Jul 2, 2011
Email life@nzherald.co.nz